Waiting for Godot
By Samuel Beckett
ZagLab
Washington Cracker Building
June-September 2017
Production Team:
Director & Sound Designer – Charles M Pepiton
Installation Artists – J.J. McCracken with Mat Rude
Costume Designer, Lighting Designer & Production Manager – Courtney Smith
Stage Manager & Technical Director – Abbey Plankey
Assistant Artists – Nathan Patrick Nelson & Paul Hurst
Cast:
Vladimir – Elizabeth Spindler
Estragon – Talena Laine
Pozzo – Regina Carrere
Lucky – Jaron Fuglie
The Boy – Owen Swanson
Director's Notes:
England's National Theatre calls Waiting for Godot the most pivotal play of the 20th century. American Director Herbert Blau writes: "I recall a speech by an official of the [U.S.] Peace Corps, who said that people today do want to act. He quoted Confucius: 'Better to light a single candle than to curse the darkness.' A Beckett play lights a candle and curses the darkness. … we are entangled in the net of inexhaustibility. That, rather than exhaustion is Beckett's real subject." That's as hopeful as it is terrifying. I'm sorry to spoil this for you. Godot is not coming. Perhaps, he doesn't exist. Yet he continues to insist, so here we are, waiting again. He didn't come when Blau & Co. waited with the prisoners at San Quentin State Prison in 1957. Prisoners know waiting well. Godot stood up Susan Sontag in Sarajevo in 1993, but that production helped to end the war. When Wendell Pierce waited in the Lower Ninth Ward in 2007, Godot never showed, and neither did the Bush Administration. I'm afraid he won't meet us in Spokane, even as the 45th President of the United States pulls us out of the Paris Climate Agreement. And yet, Godot continues to insist. We are entangled. Climate changes. Leaves grow like ashes as the BNSF railway threads its way west and then east – rolling pipelines of oil, coal, and lumber. We wait. "But at this place, at this moment of time, all mankind is us, whether we like it or not."
ZagLab, an experimental initiative from Gonzaga University,  Gonzaga University Art Department, and Gonzaga University Dept. of Theatre & Dance in partnership with Terrain isenvisioned to pursue original interdisciplinary artistic collaborations, encourage artistic risk taking, and foster adventurous creative inquiry among and between students and faculty.
Waiting for Godot by Samuel Beckett is an original, site-responsive production within an immersive ceramic installation. The installation is located outdoors at the Washington Cracker Building art-space on West Pacific Ave. in Spokane, WA.The audience joins the actors inside the sculptural environment for the production. The installation is designed to degrade in response to the weather and is open to the public from June 8 through September 10. Beckett's play humorously depicts the futility of action and inaction. Our two weekends of performances in June and September, marking the beginning and end of the installation period, respond to the unpredictable nature of the installation and raise questions about our collective response to climate change.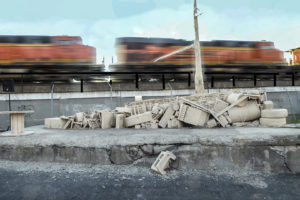 Artist's Statement:
The installation, entitled Elegy, was designed by Kreielsheimer Visiting Artist J.J. McCracken and built with Gonzaga Art Professor Mat Rude. It was composed of clay and found junk contributed by GU's Art and Theatre & Dance Departments. It responded to adjacent elements: the constant flow of materials via the BNSF Railway and the history of the Washington Cracker Building. Embedded objects referred to the transformation of raw material into goods through refinement and manufacture. Items in the junk pile suggested transportation, labor, communication, marketing, demand, consumption and waste when a hill of earthen material slowly weathers, washing over and reclaiming them. The tree, questionable dead, loosely referenced beetle kill ravaging forests as climate change warms the North American forests. Other referents included the Great Pacific Garbage Patch.
 Click here for more on Elegy by J.J. McCracken.