"…Praise the mutilated world and the gray feather a thrush lost and the gentle light that strays and vanishes and returns." – Adam Zagajewski
News:
November 1, 2019 – KPBX Spokane Public Radio – From the Studio: Gonzaga Theatre Presents "Romeo & Juliet" (AUDIO)
October 31, 2019 – The Inlander – "Gonzaga's new production of Romeo and Juliet shuffles the play's chronology and puts control in Juliet's hands"
October 1, 2019 – KPBX Spokane Public Radio – "From the Studio: Square Top Theatre Presents The Scent of a Thousand Rains" (AUDIO)
September 12, 2019 – The Inlander – "The director and Gonzaga professor Charles Pepiton is taking theater to unexpected places, like Mt. Spokane's Vista House"
August 22, 2019 – KPBX Spokane Public Radio – SAGA Awardee Charlie Pepiton of Square Top Theatre (AUDIO)
January 30, 2018 – KPBX Spokane Public Radio – "From the Studio: GU Department of Theatre & Dance presents Coming Home: A Soldiers' Project" (AUDIO)
January 30, 2018 – FOX 28 News – Coming Home on Good Day Fox (VIDEO)
January 31, 2018 – The Bulletin – "Original play about veteran experience debuts at Gonzaga"
February 1, 2018 – The Inlander – "New play by Gonzaga students and faculty relates soldiers' Spokane homecoming stories"
February 1, 2018 – KREM 2 News – "Gonzaga University's new play Coming Home: A Soldier's Project tells the real stories of soldiers coming home to the Inland Northwest" (VIDEO)
February 2, 2018 – The Spokesman Review – "Gonzaga's Coming Home explores transition from base to basketball"
June 6, 2017 – Spokane Public Radio: ZagLab Presents Beckett's Waiting for Godot (Audio)
June 5, 2017 – GU New: Gonzaga Presents 'Waiting For Godot' through New ZagLab Initiative
May 31, 2017 – Spokesman Review – Photo: Waiting for Godot
November 17, 2016 – The Inlander – The Bart of Storytelling: An eclectic dark comedy at Gonzaga draws on The Simpsons to reflect on the notion of stories.
November 9, 2016 – Spokane Public Radio: Gonzaga University Theater Presents Mr. Burns: A Post-Electric Play (Audio)
Summer 2016 – Wayland University Footprints. "Wayland Graduate's Film Screened at European Art Film Festivals"
September 9, 2016 – Spokane Public Radio: Theater Week 2016: Gonzaga Theatre Presents Freud's Last Session (Audio)
September 6, 2016 – Spokane Public Radio: Fall Theatre Preview 2016 – College Theater (Audio)
May 11, 2016 – GU News: Film with Gonzaga Connections Selected for International Festival
May 5, 2016 – On C.S. Lewis, Freud and the Reality of Monsters by Peter Rollins
February 5, 2016 – Spokane Public Radio: Gonzaga Theatre & Dance Presents Book of Hours (Audio)
September 17, 2015 – Gonzaga Bulletin: The Book of Hours Takes the Stage
August 18, 2015 – P4 Radio Hele Norge AS – "An increasing number of foreigners will make films in Norway" (Norwegian) (English)
March 12, 2015 – Spokane Public Radio: Uncharted Territory w/ Terrain and the Spokane Symphony Orchestra (Audio)
May 7, 2014 – NCPR: A Conversation about Now at the Uncertain Hour (Audio)
March 26, 2014 – SLU News: 'Romeo and Juliet' Return in Modern Adaptation
February 13, 2014 – NCPR: Shooting A Dance Film in a Blizzard (Audio)
December 3, 2013 – SLU News: PCA Professor Receives Humanities Grant
April 3, 2013 – NCPR: Preview – Hush at St. Lawrence University (Audio)
February 9, 2012 – MSNBC: Maureen Orth on Peace Corps Postcards – China (Video)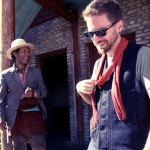 Eastern Exposure: Peace Corps Blog
A blog kept between July 2010 and June 2012 during the time Beka and I served as Peace Corps volunteers in Guizhou province, China. 1 part reflections on our work, 1 part travelogue, 1 part slice-of-life China stories.
Storied China: A series of stories told by my students in China about their families and villages.
SCENE: Binary Game. (4.1 channel sound installation)
Text by Kirsten Kaschock. Direction, editing and digital treatment by Wes Kline. Collaboratively developed and recorded with the following perfomers: Emma Daybranch, Gian-Carlo Filippi, Kelsey Hatch, Tzintzun Aguilar Izzo, Kirsten Kaschock, & Charles M Pepiton.
From the Studio Matejka / Grotowski Institute work-session:
(July 2013 – Brzezinka, Poland)