"…the artist is a self-critically engaged agent in particular situations, calling for reclamation of the sacred and the future in a world that seems in many ways to be dying." – Deborah Haynes
Productions:
Now at the Uncertain Hour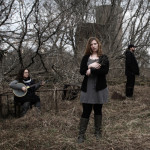 An intriguing new theatrical event from Square Top Theatre for live performance, online streaming,, and broadcast radio written by Damon Falke.  The show takes the audience on a journey through the landscape of a soldier's memory as a collector attempts to make sense of what will be left behind. The show asks: in the midst of the relentless currents of time, what can we take hold of that will go on, that will not be lost? The stories blend with the sounds of old time banjo and modular synthesizer to create a unique listening experience. See it at Edwards Opera House, listen on NCPR throughout the North Country, or online at NCPR.org no matter where you are. Friday • May 9 • 7:00p EST  
Other Projects:
Artist Broadside Series 2014 – Shechem Press
Working to coordinate and publish a series of three collaborative broadsides with artist Rebekah Wilkins-Pepiton and poets Stephen Behrendt, Robert Wrigley, and Saara Raappana. Available March 2014 online at ShechemPress.com and in select bookstores.
Recent Conferences/Workshops:
SLU Adirondack Semester – Wilderness Site Specific Performance Workshops – Sept-Nov 2013 (Workshop Leader)
A series of performance workshops with students living and learning at Arcadia, the SLU yurt village in the Adirondacks, during the semester-long wilderness emersion program. An opportunity for students to discover the difference between merely seeing and really looking at nature. Students experience a deeper, more visceral sense of knowing the natural environment through the creation of individual site specific performances. The workshops explore a variety of physical theatre and journaling techniques equipping students to read and express the various textures, smells, sounds, and movements found in their particular sit-spots in the wilderness.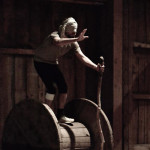 Double Edge Theatre – Winter Training Intensive – January 2014 (Participant)
An immersive introduction to Double Edge Theatre's 31-year-old original training methodology layering individual and group work, rigorous physical training with improvisation, design, dramaturgy, the voice, and work with objects and flying.