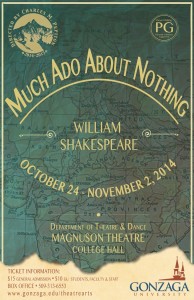 Much Ado About Nothing
by William Shakespeare
Gonzaga University
October 2014
Production Team:
Choreography – Suzanne Ostersmith
Set/Lighting Design – Shaun Sorenson
Costume Design – Leslie Stamoolis
Stage Manager – Veronica Murray
Production Script: 120 minute cutting
Director's Notes
Welcome to India. It is the Spring of 1919, during the time of the British Raj. The action of our play takes place on a tea plantation near the town of Darjeeling in northern Bengal Province. The tea fields around the house give way to forests first and then to the Himalayas. Expectations are high as the men return home after so much fighting. We hear this made clear in Act I by Claudio. "But now I am returned and that war thoughts have left their places vacant, in their rooms come thronging soft and delicate desires…"
William Shakespeare's Much Ado About Nothing, written roughly 415 years ago, reveals just how enduring our human capacity is for attraction and awkwardness, propriety and rebellion, betrayal and compassion, violence and mercy. This well beloved romantic comedy is also, as critic Robert Grams Hunter puts it, perhaps Shakespeare's finest comedy of forgiveness.
What reunites Don Pedro with Don John, or Lady Joan in our production? What saves Margaret from the punishment Borachio receives? What ends the "merry war" between Beatrice and Benedick? What welcomes Claudio and Don Pedro back into Leonato's good graces? Indeed, what makes Hero a heroine at all? Surely, it's not her obedience to Leonato. Mere obedience would render her marriage monstrous, a forced union. In the end, Hero makes a choice. It's her illogical, sacrificial act of forgiveness that sets all things right again. What else could?
In 1919, World War I has just come to a close. The world is changing quickly. Cultures clash. Empires quiver on the verge. Then, as now, there is much to be forgiven.